Coaching Skills for
Direct Marketing

Professionals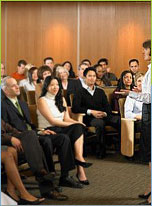 You can tell people what they need to, should, ought to do, but until you work with them on what they really want to do, they will never live up to their potential. If you want to build a motivated, strong direct marketing team then this class is for you.
Week 1 – What Coaching is and What Coaching Isn't.

Week 2 – What Every Coach Knows about People

Week 3 – Listening – The basis for any productive conversation.

Week 4 – Questioning – because you care.

Week 5 – Messaging – Tell a Story, but don't tell them what to do.

Week 6 – Strategizing – How do we get from here to there.

Week 7 – Putting it all together so you can coach people to win.

Week 8 – Lets Play with this. It is time to practice.
Tuition:$ 175.00
Register Here
Required information *